Cambridge MINOS Collaboration Meeting
21st-24th March 2009
The Cambridge MINOS Collaboration meeting will take place in Emmanuel College. Emmanuel College, located at the centre of Cambridge, it is one of the 31 colleges that make up the University of Cambridge. Take a look at the Map. An interactive map of Emmanuel college can be found here.
Registration
If you plan to come to the Cambridge meeting please REGISTER as we need to have an idea of numbers. Please indicate whether you wish to attend the reception and/or the collaboration meeting dinner, and your accommodation requirements.
There will be a registration fee of approximately £45 (£25 for graduate students). This covers the cost of room hire, support staff and coffee during the breask. It does not include lunch or dinner.
The Collaboration Meeting Dinner will take place in the Emmanuel College Hall on Monday 23rd March. This will cost £30 (£25 for graduate students). The cost includes wine and coffee.
Payment for registration/accommodation will either be by cash (travellers cheque cheque drawn from UK bank) or by International Bank Transfer (details to follow). Payment by credit card will not be possible (sorry).
Accommodation
By far the cheapest and most convenient option is to stay in Emmanuel College. There are two types of room: en suite rooms with a shower and bathroom facilities; and cheaper rooms with shared bathroom facilities (essentially undergraduate accommodation). There are a limited number of en suite rooms (31) and these will be allocated on a first come first serve basis. If demand exceeds this alternative accommodation in one of the nearby colleges will be found. Rooms are booked when registering. Unfortunately there are no twin rooms in Emmanuel College.
If you wish to book your own accommodation the are three options:
Hotel : there are a number of centrally located hotels within easy walking distance of Emmanuel College. You are strongly advised you to reserve hotel rooms as soon as possible. All the hotels listed are within easy walking distance of Emmanuel College.
Guest Houses: basic versions of hotels but lacking restaurant/bar facilities.
Bed and Breakfast (B&Bs): essentially single self-contained rooms in the owners home. Usually relatively cheap. Not all rooms have en suite facilities - so always ask regarding toilet/shower/bath.
A list of hotels/guest houses and B&Bs which are near to Emmanuel College can be found on the accommodation page.
Travel
Cambridge is easily reached from all London Airports (see the Travel section). Once you have arrived it is easy to get around Cambridge on foot. Travelling around Cambridge by car can be very difficult (due to traffic and the highly logical one-way system).
Meeting Rooms (Provisional)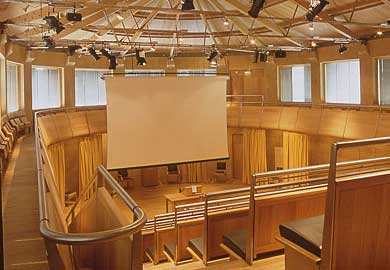 Friday 20th

1800-1930 Wine Tasting Reception (free) : Old Library

Saturday 21st

Registration : Queen's Building, Harrod's Room.
Parallel session I : Queen's Building lecture theatre
Parallel session II : Timmy Hele Room (QB)
Parallel session III : Upper Hall
Parallel session IV : TBA

Sunday 22nd
Monday 23rd

Dinner : Drinks 1900-1930 in the Old Library, Dinner 1930-2130 in the Hall.

Tuesday 24th
Coffee

Coffee will be available from 1030-1100 and 1530-1600 (see agenda for exact times) in the Harrod's Room (QB)
Food and Drink
Details of the collaboration meeting dinner and recommendations for places to eat and drink will appear in the food and drink section.
Weather
It is difficult to predict the weather in Cambridge in March but as a rough guide:
Typical daytime temperatures are 5-15oC.
It will not snow (99% C.L.).
Cambridge is one of the driest places in the UK - but be prepared for rain.
Computing
Wireless access will be available in the Queen's building lecture theatre. The network and password will be given out at the start of the meeting.
Teleconferencing: If you need teleconferencing facilities please let us know as soon as possible. This can't be guaranteed as a number of the meeting rooms do not have telephone lines.
Questions/Problems
If there are problems please contact Mark Thomson by email (thomson@hep.phy.cam.ac.uk) or by phone on:
1223-765122 (office, from 0830 onwards)
1223-357900 (home)
1223-362332 (college)
During the meeting speak to: Andy Blake, Jessica Mitchell, Mark Thomson, Ruth Toner